Aztec Gems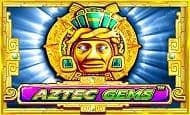 NEW PLAYERS ONLY, MIN DEPOSIT £10, £8 MAX WIN PER 10 SPINS, MAX BONUS EQUAL TO LIFETIME DEPOSITS (UP TO £250), 65X WAGERING REQS AND FULL T&CS APPLY
Play Aztec Gems™ Slot
Do you dare to enter the mysterious depths of central Mexico in search of long buried treasure? Brave a forgotten Aztec vault as you raid the reels for big wins! The Aztec Gems slot was released by hot-shot developer Pragmatic Play and its design harkens back to more classic slot game designs – but with the added twist of a fourth reel containing a random multiplication effect per spin on your winnings. While there are only three reels, three rows, and five paylines, the varied values of each symbol and the effect of the multiplication reel could have your wins boosted to heavenly heights.
A beautifully melodic yet haunting soundtrack serenades you as the reels are spun, and the artwork of gently swaying ferns, tumbling waterfalls, and drifting fireflies create a peaceful ambience in contrast to the hot action from each spin. Simple yet elegant with its vibrant colour palette and glittering gem symbols, this pseudo-retro slot holds the potential to greatly pay out to those willing to steel their nerves – even Montezuma himself would be green with envy!
Most slots pay from left to right on their paylines, and the Aztec Gems slot remains true to this typical design. There are a total of eight symbols, each with varying values, and with one of those being the special wild symbol that acts as a replacement for any other symbol on a payline. These symbols are also frequently stacked above and below each other in twos or threes, but don't take that as a certainty that they'll be on the reels' paylines! If you're lucky to get a full screen of one type of symbol (or many supplemented by wild symbols), the payout can be eye-popping – and that's not counting the multiplication bonus from the fourth reel adding to your wins!
To begin, you must first select your stake per spin: this can be done by selecting the plus or the minus arrows on each side of the spin button to bring up a sub-menu. This sub-menu allows you to highly customize your stake amount by giving you the choices of how many coins per line you would like to bet, the value of said coins per spin, and the ability to increase or decrease your total bet amount per spin in addition to the other two options. This gives you the freedom of choice to bet either the barest amount of just a meek 0.05 to a heart-pounding 25.00 per spin, with incrementals and decrementals ranging from pennies to pounds in between! After spinning and matching three symbols (or two symbols and a wild) on a payline, the special fourth reel pays out a bonus derived from whichever multiplier it landed on – these multipliers shoot straight up from the humble 1x (which doubles your win) to the titanic 15x!
Hit with the urge to try your luck again, but find repeatedly clicking on the Spin icon tiresome? Not a problem! Simply press the Autoplay icon underneath the Spin icon to bring up the Autoplay Menu. From there you can choose how many automatic rounds you'd like the game to play for you, to spare your ravaged nerves: you can also Quickspin for accelerated play or enable the lightning fast Turbospin, for those who need to get their blood pumping with almost instantaneous rounds. Oh, and Skip Screens will just bypass the pop-ups from your various wins – but that would be pretty boring and unsatisfying, right?
If you feel the slot's sounds are annoying or distracting, or if you simply need silence from wherever you're gambling from, you can simply click on the Speaker icon to either mute the slot's audio entirely or you can adjust the overall volume with the handy pop-up slider. If you want to hear the audio but not the fast-paced soundtrack, you can open up the System Settings menu by clicking on the tiny, Three Bar icon located just above the Speaker to bring up numerous options to help customize your gaming experience.
The System Settings menu allows you to see your Game History, a simpler method of choosing your stake, the option to Quickspin but not Turbospin, enable a mobile-friendly option to help save your device's battery, disable the title screen upon slot initialization and, most importantly, permits you to mute either or both the soundtrack or the slot's ambient sound effects of a creepy jungle.
Also, good news! The slot is mobile friendly, sharing all the same functionalities on your phone or tablet as it would on a more traditional PC – you'll have the freedom to take on Lady Luck whenever and wherever you feel like it... provided your device's battery isn't low, of course!
The Aztec Gems online slot rates a two and a half out of six on Pragmatic's own lightning bolt volatility scale – a 'medium' in their own words. This means that Aztec Gems is expected to pay out steadily per round but with each win ranging from either being low to very high, and the highest possible payout (assuming the stars align, of course) is 375x that of your stake. The theoretical RTP percentage is a respectable 96.52%: while not as high as other slots in the much preferred 97%–99% range, it still ensures that the Aztec Gems slot game is worth using to try to challenge Lady Luck.
Unfortunately, as Aztec Gems is based on more classic slot designs, it does not feature a free spin feature or any other bonus features, with the exception of the fourth reel multiplication bonus on winning paylines. Its pseudo-sequel Aztec Gems: Deluxe, however, does contain multiple bonus features, including a varied jackpot system, but the caveat is that the fourth reel multiplication system has been removed entirely.
Pragmatic Play was founded and as such they are relative newcomers compared to other giants like NetEnt and Playtech. However, in the past five years they've been operating, these hotshots have developed and published numerous slot games, live casino software, bingo game software, and numerous tools for sportsbooks and casinos to push promotions to their customers as they gamble and play.
Recently, they have begun to publish "Deluxe" variants of a few of their hit slots, altered with greatly modified designs and bonus features compared to their progenitors – this includes Aztec Gems: Deluxe, which is a very different slot due to the severity of the changes they've made, such as including multiple jackpots and bonus features.
Unlike the scores of more complicated slots out there, it's clear that Aztec Gems was designed to be relatively simple and non-complex in how it operates: while not necessarily a bad thing, it does make the slot feel a tad archaic compared to its more modern contemporaries.
While the multiplication system of the fourth reel is a nice gimmick (and one that offers great potential in boosting your winnings), the lack of a true bonus feature is a little off-putting and is actually expected by players in modern slots. There are many reasons why complicated and rewarding bonus features –from the well-known scatter symbol free spin system to more unique implementations per slot– have become the norm in modern slot gaming, and they include a lot of enjoyment for slots players.
The amount of options available that allow you to customize your bet per spin is a saving grace, however: this allows the slot to be accessible to everyone from the most timid slots player to those thrill-seekers hungering for big wins.
Another off-putting aspect of the slot is that the lowest value symbols will pay just under half of your stake if you have a successful trio on a payline. However, the more valuable symbols offer up tidy wins derived from your stake, such as the ruby being 4x. The wild symbol is the most useful and rewarding symbol, I feel, outside of a full screen of another symbol due to it offering up 5x – combined with the multiplication system, this could lead to some huge wins on even a small bet.
Still, with its simple yet elegant graphics, a memorable and a resonating soundtrack, and the potential for big wins if the volatility is in your favour, the Aztec Gems online slot may be simplistic and archaic in design, but it has a rustic charm all of its own and can be thrilling to play.
Will you dare to brave the jungle in search of riches beyond measure? Remember, watch out for jaguars!